Letter to the Editor: SuperBanker says new Online Bill Pay is all the rave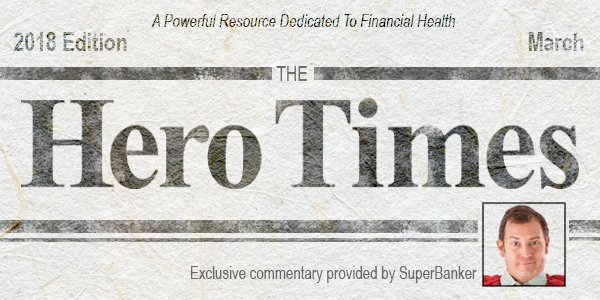 03-27-2018
---
Dear HeroTimes Editor,
Just when I thought First Basin Credit Union could not get any better – they did! I can get to my Online Bill Pay with just one login now – yes, isn't that amazing! I login into Online Banking and BAM I can go straight to paying my bills! No more separate user name or password required to get to Online Bill Pay.
It happened so fast and smoothly, too, Mr. Editor. I opened up my Online Banking and all my existing payees, payment amounts and payment schedules that I'd created were still there. I am also still able create, edit and delete my payees. Plus, now there is faster bill payment! Most payments can be made in as quickly as three business days – so no more late payments to Momma!
My favorite change has to be that, BEFORE this super enhancement, I chose the date I wanted my payment to ARRIVE to my payee – yes, usually the day my payment was due. Now, I get to choose the date I want the money withdrawn from my account. Let me tell you, Mr. Editor – I love this feature. I simply enter the date I want the money taken from my account and eh, my best advice is to have it withdrawn 5-7 business days before the payment is due. This way, ALL your payments are on time!

Do we see a theme here, Mr. Editor? First Basin is making it even easier to get your payments in FASTER and ON TIME! Whew, me and my cape really need to practice to keep up!

Have I left anything out? There is so much here! ONE WHOLE YEAR of payment history is available, and any payments scheduled from my account continued to process – one time payments and all my future payments! One TINY detail about this amazing new Online Bill Pay to share is that, when it came to my recurring payments – yes, I have several of those scheduled to my Momma – I saw a one-time payment followed by a recurring payment. This single one-time payment had to be done just to allow that first payment from the new enhanced system to process. Once that single, one-time payment cleared, the recurring payment schedule to my Momma took right back over!

I can't say enough to all our First Basin members – and future members – about this new change. If you haven't signed up for First Basin Online Banking, I would do it today – the faster you sign up, the faster you have access to the new and improved Online Bill Pay!
Most Sincerely and ever loyal,
SuperBanker
---